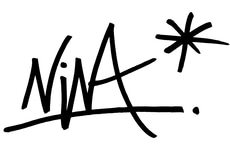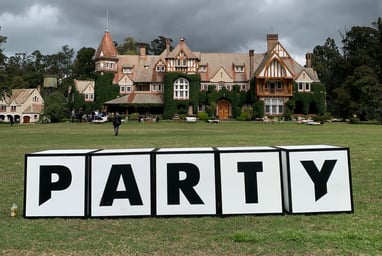 NXA Studios (now Collider) set out to celebrate their fifth anniversary and for that they called on me from the very start to team up with the client in conceiving the ideas for this beautiful and super fun Penta Party.
My collaborator, designer and friend Jimalcha and I designed the environments: the setup of each area, the routes between them, the signage for the party and the overall aesthetics.
In an imposing mansion in a countryside setting, where a movie had been filmed, we generated different spaces for the event:
A large living-chill area bordering a lagoon.

A movie area called Estadium, where various video projections were shown.

The food table, with all its countryside décor and menu.

The breakfast moment, the cake moment, for which we also designed the cake and other sweets. With the logo and characters created by NXA.
The piñatas, in their three caricature designs, NXA logo and Collider logo, were the big stars. Each interior was full of candies in packaging with NXA/Collider designs.
Likewise, we commissioned a fab lab to make a real reproduction of the hammer of Shao Khan, the villain from Mortal Kombat, which the illustrator used to break open the piñatas. A sublime moment that we share below!
We also designed backpacks to carry away gifts, which arrived at the party in trolleys decked out with party graphics.
Finally, we created an area called Merch, where credits earned in the games could be exchanged for souvenirs from this wonderful party, all corporate gifts specifically designed: pins, t-shirts, caps, and jackets.
"Penta Party": Celebration of the 5th anniversary